9 Best Toys To Keep Your Dog Busy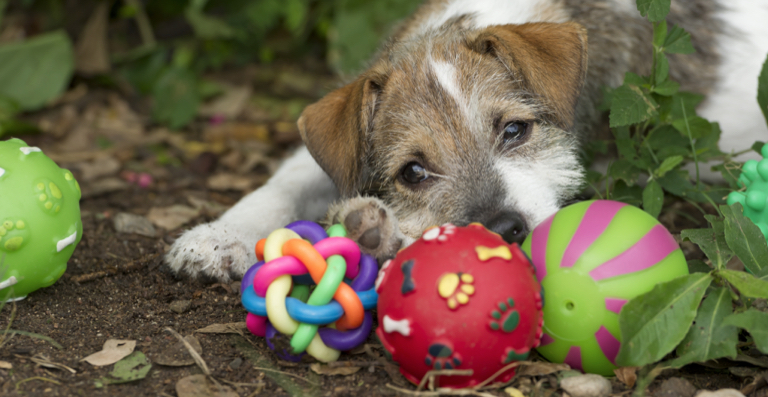 A bored dog is a recipe for trouble!  Finding ways to keep your dog busy while you're at work can help to prevent destructive behaviors like chewing and keep barking and whining to a minimum. Providing mental stimulation is also important for your dog's mental health. After all, no one likes to be bored!
Many dogs get bored when they're home alone all day. Sure, you can toss out a plush toy or a tennis ball, but that's only going to go so far. The best toys to keep dogs busy are interactive and stimulating, as well as durable, to keep your dog safely occupied for long periods of time.
These interactive dog toys are multifunctional, so they're just what your pup needs to keep both his mind and body busy. Pull one out whenever you have to be out of the house, whenever you've got company over, or even to keep your pup occupied while you attend to other tasks at home.
From puzzle toys to treat dispensers, here are the 9 best toys to keep dogs busy and prevent boredom in 2020!
The Best Interactive Dog Toys For Bored Dogs
Seek-A-Treat Puzzle Toy
Seek-A-Treat is a fantastic interactive game that requires your dog to think in a most entertaining way! He has to learn how to navigate the various sliders to get to his treats hidden below. Even better, you can change up the pattern every time to keep things challenging for your furry buddy! Each slider has a hole that allows your dog to smell the treat, enticing him to find them all. Small treats work best with this toy, so look for some that fit in about 1/2″ of space.
Kong Classic Dog Toys
Kong Classic Dog ToysKong toys are a classic boredom-busting dog toy that both chewers and non-chewers will love! Stuff the hollow of the treat with some kibble, dog treats, and dog-safe peanut butter to keep your pup busy and happy for hours. If you want to make it even more challenging, fill it up the night before and pop it in the freezer. Switch things up by using canned dog food, yogurt, bits of meat or cheese, fruits and veggies, or even doggie ice cream to keep things interesting. Kongs are available in a variety of sizes for puppies, aggressive chewers, and everything in between.
BUY the Classic KONG from Amazon
Bob-A-Lot Interactive Dog Toy
We all loved those blow-up bop bags with the weighted bottoms that we used to smack around when we were kids. But, wouldn't they have been even better if they dispensed a piece of candy when you hit them? The Bob-A-Lot is a lot like that, but it's great for indoor play and you can fill it with your pup's favorite treats to keep him busy for hours. You can even change the size of the openings to adjust the difficulty level. Watching your dog bop this toy around is going to be just as entertaining for you as it is for him!
BUY the Bob-A-Lot Interactive Dog Toy on Amazon 
Outward Hound Hide-a-Squirrel
Who's up for a little hide and squeak? I'll bet your dog is! Outward Hound's Hide a Squirrel is a plush puzzle game that's perfect for indoor play. All you do is stuff the tree trunk with the squeaky little squirrels, then sit back and watch your pooch pull them all back out. It's great entertainment without treats, so it's perfect for pups who need to count calories! It comes in three sizes, too.
Nina Ottosson Outward Hound Puzzle Toy for Dogs
Don't let your dog spend too much time with this clever puzzle toy, or he just might get too smart! This wooden puzzle toy made by Nina Ottoson is perfect for curious pups who need mental stimulation. This interactive game requires your dog to figure out how to work the levers to reveal his favorite treats!
OurPets IQ Treat Ball
The IQ Treat Ball is a similar concept to the Bob-A-Lot, but this one rolls so your dog will have to chase it around the house. Simply fill it with some yummy treats and adjust the opening as needed. It's a fantastic interactive toy for dogs of all sizes.
PetSafe Busy Buddy Tug-A-Jug Interactive Toy
The Tug-A-Jug by PetSafe has a totally unique design that includes a food dispenser, a rope toy, and a rubber dog chew toy all in one. This one can hold an entire meal's worth of kibble, so it's a great tool for slowing down dogs who gobble down their food too quickly. It will also keep bored dogs busy for quite a while and it comes in a variety of sizes for small dogs, large dogs, and power chewers.
Snuffle Mat Puzzle Toy
Snuffle Mat puzzle toys are a top seller on Amazon, and it's easy to see why! These adorable interactive toys mimic the grass outside and encourage your dog's natural curiosity to sniff. They're durable, yet soft, with an anti-slip bottom that keeps the toy stable so your dog can hunt out the treats you stuff inside. It's machine washable and comes in three different patterns, too!
FAQs + Boredom Busting Tips for Pet Owners
1. What makes a dog toy interactive?
A dog toy is considered interactive if it provides both mental and physical stimulation. Your typical, dog chew, squeaky toy, or tennis ball will give your dog something to chew on and encourage physical play. But, an interactive toy also stimulates the brain and makes your dog think.
2. Why is mental stimulation important for dogs?
Dogs get bored just like humans do, and when that happens, they'll look for a way to entertain themselves. Many dogs get into trouble when they're bored because they entertain themselves with destructive behaviors like chewing. Mental stimulation is every bit as important as exercise and a healthy diet for your pup's overall wellbeing.
3. What else should I do to provide mental stimulation for my dog?
While these interactive dog toys are excellent for providing mental stimulation when you're busy, nothing replaces the value of human interaction and play.
Long walks are ideal for providing both mental and physical stimulation. Obviously, it's great exercise, but dogs also have a natural drive to sniff, roam. and explore that can only be fulfilled with a long, daily walk.
Games are also fantastic boredom busters for dogs. Fetch is always a hit, but you could also try hide and seek, tag, or even create obstacle courses to challenge him.
If you have an especially active dog, you might even consider getting involved in agility. Practicing basic obedience or learning a new trick can be mentally stimulating for your pooch, too.
Wrap Up
Dogs get a bad rap for chewing up shoes, getting into the trash, and a variety of other misbehaviors when they're left home alone. Many times, these issues can be resolved by providing extra exercise and interactive toys to keep your dog busy and prevent boredom. We recommend keeping a variety of boredom-busting dog toys on hand so you can switch things up regularly!