Best Puppy Food Recommended By Vets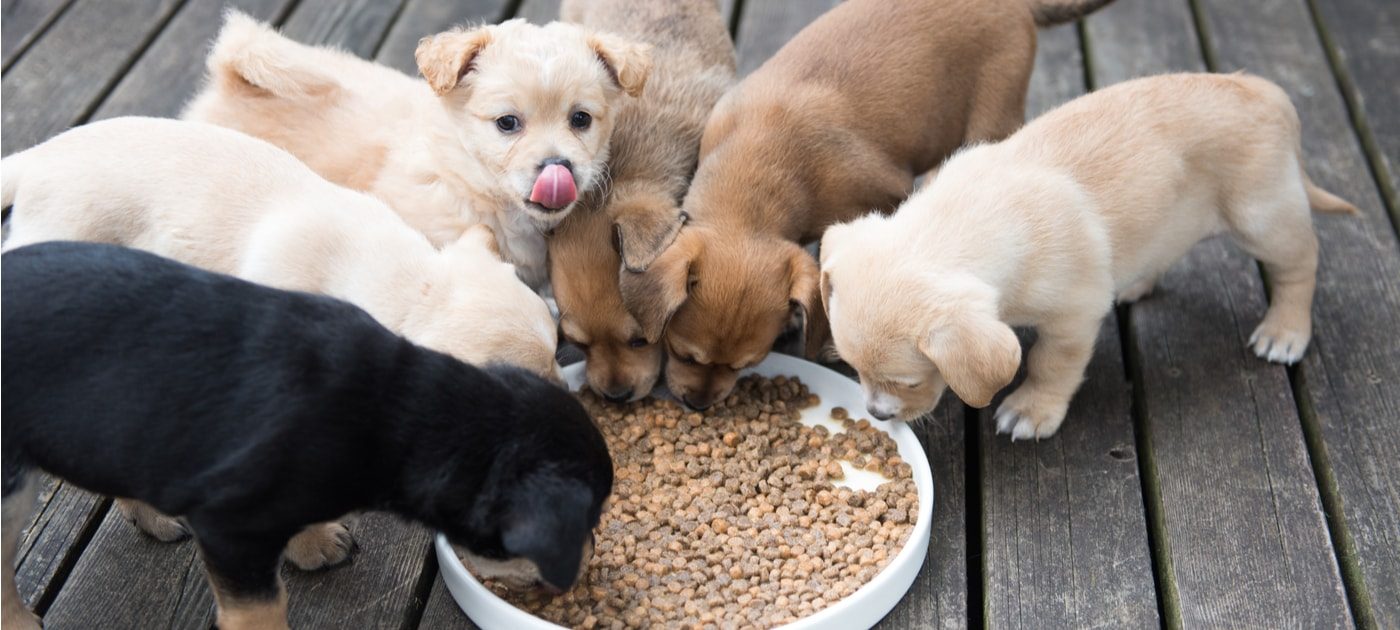 Just like human babies, puppies require tons of nutrients to support their growth and development. Thus, their food must contain high amounts of protein and fat, often more than the normal levels found in adult dog food.
For this article, we turn to Amazon for the best rated and high-quality puppy food they offer for your small furry friend.
Nutritional Requirements for Puppies
The Association of American Feed Control Officials or AAFCO made a set of rules and regulations for pet food distributors, including that of puppies. The food must have at least 22.5% protein from real meat sources, preferably in meal form because they have higher protein content, and 8.5% fat largely from omega 3- and omega-6 fatty acids for their cognitive development.
The pet food must also have at least 1.2% calcium and 1.0% phosphorus for their skeletal health. These minerals are especially important for large breeds—they tend to grow faster than their small breed counterparts, so their dog food must be able to support their rapid growth and development.
There is an ongoing debate as to the right amount of carbohydrates in dog food. According to vets, dogs, adults or pups, do NOT need carbs. Fat is enough energy source from them, and this has been observed since the time they were domesticated.
However, some dog food manufacturers still add carbohydrate sources, like wheat, rice, and potatoes, to their formulas because it is a cheap filler than meat. To make things worse, they do not disclose the percent daily value of carbohydrates in their nutritional labels.
To err on the safe side, scan the ingredients list and look for carbohydrate sources. If it has three or more of them, it is best to drop the product and look for something else.
Finally, your puppy food must contain vitamins and minerals in chelated form for faster absorption. As much as possible, avoid those that have artificial preservatives as these could be upsetting to your puppy's fragile digestive system.
Top Food Options for Puppies
Product 1: Wellness CORE Natural Dry Grain Free Puppy Food
Product 2: Taste of the Wild High Prairie Puppy Formula with Roasted Bison and Venison
Product 3: The Honest Kitchen Human Grade Dehydrated Grain Free Dog Food
Product 4: AvoDerm Natural Chicken Meal & Brown Rice Formula Puppy Dry Dog Food
Product 5: Blue Buffalo Life Protection Dry Puppy Food
Wellness CORE Natural Dry Grain Free Puppy Food
This pet food manufacturer has been around since the 1990's, formulating kibbles for both cats and dogs and partnering with experts and veterinarians to make their products better and safer for your pet.
Their puppy food formula has three primary protein sources: deboned chicken, chicken meal, and turkey meal. Because two of them are in meal form, buyers can be assured of the high protein content since meal form has 300% more protein than their raw counterparts. In fact, if you look at the label, each 417 calories-per-cup contains about 36% of crude protein.
As for the fat, the ingredients include salmon oil and ground flaxseeds. Both are excellent sources of omega 3- and omega 6- fatty acids. They also added natural ingredients like spinach, carrots, and broccoli as a healthier source of vitamins and minerals even though the formula is already fortified with them.
The company recommends combining this formula with wet food especially for puppies that do not have teeth yet. As they get older, gradually decrease the amount of wet food until they can finish a full dry meal.
Taste of the Wild High Prairie Puppy Formula with Roasted Bison and Venison
Their pet food items are based on the premise that dog food must be heavily patterned on the diet of their ancestors. Thus, their dog food formulas derived their protein sources from animals in the wild, the common prey of ancestral dogs.
For this formula, they utilized buffalo meat and lamb meal, followed by roasted bison and venison (as stated in the title) and beef as the protein source, along with egg products, providing most of the 28% crude protein. For the fat, they added canola oil, salmon oil, flaxseed, and ocean fish meal, all of which are excellent sources of omega 3- and omega 6-fatty acids plus DHA which is also essential for brain development.
Finally, probiotics and fiber from dried chicory root, peas, and garbanzo beans are combined to promote proper digestion and smooth bowel movement for your puppies. Each cup contains 364 calories and must be fed based on the feeding guide the company provided, shown here.
The Honest Kitchen Embark Grain-Free Dog Food
A relatively new company (they were established in 2002), The Honest Kitchen prides in creating formulas that are both AAFCO- and FDA-approved, so both humans and animals can guarantee of their pet food's quality and safety.
Their "Embark" recipe was originally made for their clientele who wants their puppies to experience the allergen-free and human-grade pet food as well. Its protein content comes primarily from turkey, a white meat that contains all ten essential amino acids that dogs and puppies need for their health. Despite it being a lone protein source, it provides most of the 29% of this macronutrient.
Its next ten ingredients (flaxseed, celery, potatoes, spinach, coconut, carrots, kelp, eggs, apples, cranberries, bananas) are all dehydrated to lock in essential nutrients. Customers can guarantee that most of the vitamins and minerals the food contains all come from fresh, raw, and organic ingredients. All they need to do is add water!
With 488 calories per cup, this formula is perfect even to the most sensitive of puppy stomachs.
AvoDerm Natural Chicken Meal & Brown Rice Formula Puppy Dry Dog Food
AvoDerm is owned and produced by Breeder's Choice, a pet food manufacturing company established in 1947. The trademark was created after the company discovered the benefits of adding avocados in their pet food formulas. This PUFA-rich ingredient catapulted them to one of the most recognized businesses in the pet food industry, with customers calling their formulas "miracle" products.
This particular formula has a protein that comes mostly from the chicken meal. It also contains herring meal which is an excellent source of protein as well as omega-3 fatty acids, along with flaxseeds and chicken fat. Its central star, the avocado, makes up most of the fat content of 16%.
The company claims that the presence of avocado in the formula can bring a shinier coat and healthier skin for dogs, both young and old. Most of their customers agree with these claims.
This 372-calories-per-cup also contains vitamins and chelated minerals that are readily absorbable by their bodies.
Blue Buffalo Life Protection Dry Puppy Food
The company was named after the owner's family's dog, Blue, as a tribute to their pet's devotion to the household. Because Blue has a lot of health issues, the Bishop family, led by Bill, made it their mission to provide the best and high-quality pet food made from natural ingredients. This work continues to thrive as the company grows through the years.
The protein content of this particular formula comes from deboned chicken, chicken meal, and menhaden fish meal. The latter is also a rich source of omega 3-fatty acids, along with flax seeds and fish oil which is rich in DHA as well. All mentioned ingredients make up most of the protein (27%) and fat (16%).
This formula contains relatively high amounts of grains from brown rice, barley, and oatmeal so it may not be suitable for gluten-sensitive puppies. The good thing is that these three are excellent sources of dietary fiber which promote healthy digestion for their delicate stomachs.
Each cup contains 406 calories and is fed three times a day for puppies under six months old and twice for 6-12 months old. These frequencies may vary depending on the weight and size of your young friend.
In choosing a dog food formula for your growing puppy, you must always consider what it wants. Observe its reactions as soon as you introduce a new one. If your pup doesn't like it, don't feel bad about the wasted money and change it. At the end of the day, it is not you who will endure eating it—it's him (or her).