12 Clever Ways to Save Money on Vet Bills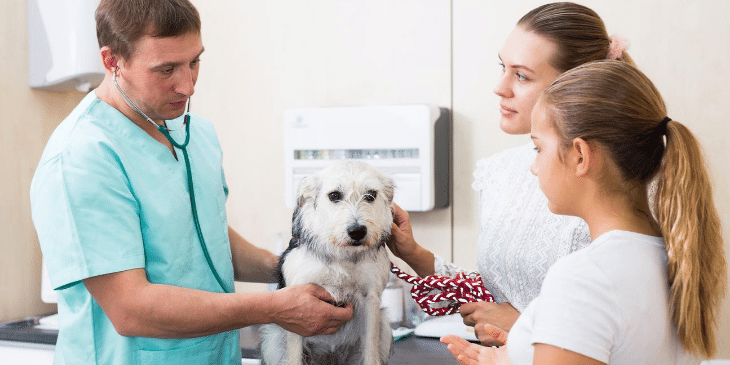 According to the American Pet Products Association (APPA), Americans spent $29.3 billion on veterinary can in 2019. And that figure is expected to rise to as much as $30.2 billion in 2020. Finding ways to keep veterinary costs as low as possible is essential for many families. Here are 12 clever ways to save money on vet bills without compromising the quality of your dog's care.
1.      It Starts with A Healthy Lifestyle
Just like people, much of your dog's health depends on his lifestyle. And since he can't make healthy choices on his own, it's up to you to do it for him.
Help him maintain a healthy weight by avoiding overfeeding and high-fat treats. Make sure he gets plenty of exercise, including a long daily walk.
Even dogs who are moderately overweight are at higher risk for diseases like diabetes, arthritis, heart disease, cancer, and arthritis. Keeping your dog lean improves his quality of life and may save you a lot of money on vet bills.
Mental stimulation is just as important as physical exercise, so look for ways to keep your dog's mind engaged. And be sure to take care of his teeth in between checkups with a product like Petsmile (it's highly effective and doesn't require any brushing).
And, finally, choose the right supplements and probiotics for your dog, but be careful not to fall prey to marketing hype. Many supplements are completely unnecessary, as long as you're feeding a high-quality dog food.
2.      Save Money on Vet Bills by Investing in Preventive Care
Investing in preventive care is a smart way to save money on vet bills over the long run. It's usually much cheaper to prevent a disease than it is to treat it.
For example, monthly heartworm prevention costs around $10 a month, but treating heartworm disease can cost well over $1000 in vet bills and prescription meds. Treating heartworm disease is also very painful for your dog, and it could even be fatal.
Regular checkups are absolutely essential because detecting health issues early not only saves money on vet bills, but it could also dramatically improve your dog's prognosis and maintain his quality of life. Be sure to include regular dental care and cleanings along with wellness exams.
Vaccinations are also important for disease prevention but be careful not to over-vaccinate. Many vaccines only need to be given every three years and be sure to only vaccinate for diseases that are a concern in your area.
3.      Ask About Preventive Care Packages
Although not every vet offers them, preventive care packages are becoming more and more common. These customer loyalty programs bundle basic services, such as parasite control, vaccines, and dental care, at a discounted rate in exchange for your continued business.
Some vets will even allow you to pay for your package in monthly increments. Or, you may be able to save even more by paying for the entire package when you sign up.
4.      Shop Around Before Purchasing Medications
Veterinary clinics tend to mark up the prices on medications considerably. Always ask for a written prescription so you can shop around before purchasing medications
You may be able to buy some medications at your local pharmacy or a big box store in generic form for a fraction of the price. Online pet pharmacies can also offer great deals but watch out for scams.
Shop only at reputable pharmacies and avoid foreign online pharmacies that may carry counterfeit medications or drugs that aren't approved by the FDA.
If you feel more comfortable purchasing medications directly from your vet, you may still be able to save some money. Call around to compare prices and see if your vet is willing to price match a lower price.
And, always ask your vet if they have any free samples or rebates for medications your dog needs. This is especially common with flea and heartworm prevention, and it's a great option if it's a new medication that may not work well for your dog.
5.      Shop Around for the Best Rates on Services, Too
Did you know that prices for veterinary care can differ dramatically from vet to vet? If you're looking to save money on vet bills, it pays to call around and inquire about fees for services you need regularly, especially wellness exams, vaccines, and dental care.
Rates will almost always be highest in high-rent areas, so be sure to check out less posh neighborhoods in your area for the best prices.
Even the cost of diagnostics can vary greatly, so if it's not an emergency, take the time to comparison shop for things like lab work, x-rays, and ultrasounds. If you find a lower price elsewhere and your vet can't meet it, you can still have the diagnostics done at the more affordable clinic and have the results sent to your preferred vet for final diagnosis and treatment.
6.      Inquire About Special Rates
It's not uncommon for vets to offer new patient and multi-pet discounts, but they may not mention it if you don't ask. Some vets also offer special deals on things like vaccines or routine dental cleanings once or twice a year, so don't hesitate to ask before you book an appointment for a routine service.
7.      Ask for and Consider All the Options
Always listen to your vet's advice, but don't accept it automatically. Ask for and consider other options for treatment, too. Your vet may not suggest the cheapest treatment option, even when it's just as effective.
And, be sure to let your vet know you're on a tight budget. He can't help you if he doesn't know you need it. Sometimes, a payment plan, discount, or free samples might be available for patients in need.
8.      Get a Written Estimate of Your Vet Bill
Always ask for a written estimate before agreeing to any treatment or procedure your vet is recommending. This will give you a clear picture of what's included and what isn't, as well as what you can expect to pay.
Look the estimate over carefully for any procedure that seems unnecessary or for any charges you don't understand. Be on the lookout for lumped in extras that you could opt-out of to lower your bill.
If you decide you want to shop around and compare prices, having a written estimate in hand will allow you to compare costs down to the last detail. Remember, a cheaper price isn't a good deal if you're not getting the same quality of care for your dog.
9.      Consider Pet Health Insurance
Pet health insurance can be a real lifesaver if your dog ever needs surgery or major medical care. However, pet health policies are not all created equal, so shop around carefully and make sure you understand the coverage before you sign up.
You'll want to compare several different policies to ensure you're getting the best value for your premiums. And, always check to make sure that your preferred vet accepts the insurance you're considering. If you have more than one pet, you may be able to save some money with multi-pet discounts.
If you can't find a policy that suits your needs, consider creating your own "pet health insurance plan" by depositing a set amount of money for vet bills into a special savings account each month.
10. Look for Veterinary Colleges in Your Area
The American Veterinary Medical Association's website has a list of accredited veterinary colleges around the country. Take a look to see if there's one in your area and give them a call to see if their prices are lower than those at your regular vet.
Typically, veterinary collages offer services at a much lower cost because the animals are seen by students who need to gain hands-on experience. Don't worry, your dog will still get high-quality care because the treatment will be overseen by a licensed and experienced veterinarian.
This option can really save you money on preventive care such as wellness exams and vaccines, as well as basic procedures like dental cleaning and spay/neuter surgery.
11. Be on the Lookout for Pop-Up Clinics
The Humane Society, ASPCA, and other animal welfare organizations often host pop-up vaccination clinics and low-cost spay/neuter events. Look for these organizations in your local area to find out about future events. Organizations like the Humane Society may even have a full-time clinic offering basic care at discounted prices.
12. Ask for Help from Animal Welfare Charities
Animal welfare charities can sometimes help pet parents when their dog needs treatment they can't afford. Some of these charities only help people with service dogs or specific breeds, but there are many available to anyone who needs help.
Check out the Human Society's list of animal welfare charities to see what you may qualify for. They also offer some excellent advice for raising funds or getting a loan for critical veterinary care.
The Bottom Line
In today's economy, finding ways to save money on vet bills is crucial. The tips and resources outlined in this article will help you keep your dog's veterinary expenses as low as possible while still providing him with the essential care he needs for a long, healthy life.