6 Best Dog Parks In The USA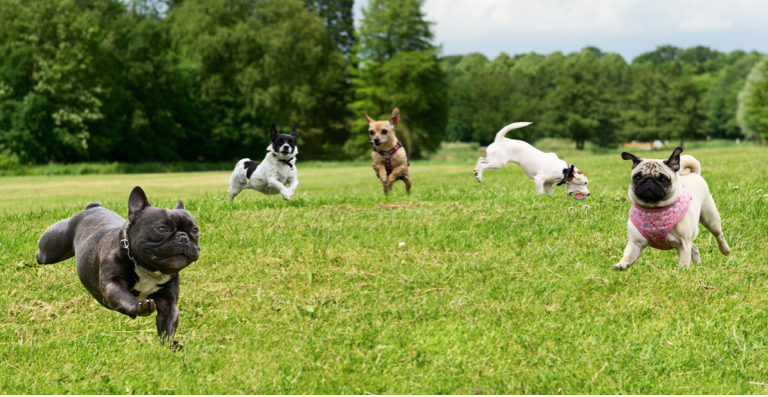 Dog parks provide an ideal environment for canines to roam and socialize with other dogs. Many cities are introducing these parks in response to an ever-increasing demand. Les Vegas and San Francisco are some of the metropolitan areas with highest number of dog parks in the country. From leash to off-leash recreational parks, dog owners can take advantage of the wide variety of options on offer. The parks are a viable solution for pets roaming into private properties or becoming a hazard on the roads. A fenced facility solves this problem while allowing energetic animals to enjoy maximum freedom. This is a practical way to ensure mental and physical stimulation. In turn, the animals will stop displaying annoying or destructive behavior. With so many top parks to choose from, taking your pet on a dream adventure just got easier.
Jackass Acres K-9 Korral
Located in New River, Arizona, the Jackass Acres dog park has the distinction of being the first sustainable dog park in the country. The facility is divided into two sections to cater for both active and less active canines (including smaller dogs). Some parts of the grounds are covered with artificial turf and feature slopes designed to allow excess water to run off easily. The park offers a number of poop stations equipped with biodegradable bags.
Beau's Dream Dog Park
This park was transformed from a simple recreational area into a charming facility filled with fun water features, roller coasters, and sprawling hills. The park is superb for different types of dogs. It is located in Lancaster, PA and has managed to attract multitudes of visitors from the area and beyond. Beau's Dream Dog Park safeguards the health of pets visiting the facility by enforcing a number of rules. All animals must be inoculated and healthy; the owners should come with a confirmation letter signed by a qualified veterinarian. The minimum dog age allowed in the park is 16 weeks, and the pets must be spayed or neutered. Visitors can report a violation to the park staff.
Hawai'i Kai Dog Park
This facility is located in a picturesque area surrounded by magnificent ocean views and mountain ranges. The park offers poop dispensers and is open daily from dawn to dusk. It features an enclosed space designed to cater for smaller canines (weighing 18 pounds or less). The section is a much safer play area for puppies and smaller dogs. All dogs visiting the park should be licensed.
Pilgrim Bark Park
Bark Park is situated in Provincetown, Massachusetts and it offers a general dog section and an enclosed space for small dogs. The park features awesome sculptures; it is a great place for dog owners to enjoy a meal at the sidewalk cafes and for dogs to frolic. There is plenty of water and shade, which is vital in hot summer months.
Millie Bush Dog Park
Located in Houston, Texas, Millie Bush Dog Park boasts three ponds designed to cater for both small and big dogs. It also offers multiple wash stands, shady areas, and water fountains. The facility is a leash-free dog zone that has expansive open spaces. It is a haven for playful pets and also features a section reserved for unruly canines. This park has a number of muddy spots where dogs may roll and get dirty. For this reason, the recreation park also features doggy showers for cleaning up your four-legged friend before heading home. The Dog Fancy Magazine named Millie Bush Dog Park as the best park for K9s back in 2005. It continues to flourish up to this day. The facility is an awesome place for humans and dogs. Some of the amenities designed for humans include benches and picnic tables.
Washington Dog Park
The Washington Dog Park offers a wide variety of pet-friendly features, including a water creek, a low-lying spout for easy reach, large granite boulders, a water fountain and much more. The park is set on a12,000 square foot land in Winston-Salem. Dog owners can watch their pets enjoy the paradise while sitting on the park's well-placed benches. Washington Dog Park boasts a pea gravel and special synthetic turf, which are ideal for canine playgrounds. They help maintain cleanliness while ensuring year-round greenery. The park is a leash-free environment, but all animals must be kept on a leash when entering and existing the facility. Owners should exercise full control of off-leash dogs. The park requires the handlers to keep the leash in-hand, just in case the off-leash animal starts causing problems. Unruly or hard-to-control dogs must be kept on leash for the duration of the visit. Aggressive canines are not welcome at the Washington Dog Park and any pet displaying aggression should be removed immediately. All animals must be licensed to gain access to the recreational area. Children under the age of 13 can only visit if accompanied by an adult. Dog owners are to required to use the poop bags and dispose of them in receptacles dotted around the facility.